It was almost time for Em to go back to work at the Race Track in early April when the annual Tunica, MS golf trip convened. Em likes to golf with his son there, but for the 2nd year in a row we made the trip and circumstances prevented his son from attending. Circumstance THIS year was weather. Similar to 3 years ago, golf got rained out most every day. Unlike last year, however, we drove through lots of rain, too.
Maybe adding an annual aside, we stopped to visit with my oldest brother, his wife, their oldest daughter, and her fiancee on our way to Tunica, meeting them at
PearlRiverResorts
. They go there once/week to game and had a coupon to get us a hotel room for lots of money off the regular rate.
Had a good time with them, but didn't get pictures. We got to talking, gaming, and having fun together and the thought of taking photos got lost in the shuffle. Having learned our lesson from that, we'd barely given oldest brother's youngest daughter and HER beau a greeting before we whipped out the camera to get a remembrance. They're living in Biloxi currently and Biloxi was our stop after Tunica and before New Orleans. Hi, girl!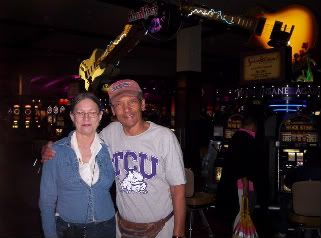 From Biloxi, we went on to N'awlins. We'd been there once or twice before Katrina (in our younger days). I don't think Katrina had anything to do with it, but the town didn't seem to offer us the same excitement it once did. Might be due to us being a little tighter with our money these days, but Bourbon Street looked pretty boring to us and we found ourselves enjoying more the "off-the-beaten-path" attractions.
We stayed at
The Lamothe House
, which is less one house and more several houses in the French Quarter of New Orleans.
Lamothe House was kindof a cross between hostel and motel. We had a private room with bath, TV, etc. (although the furnishings were antique and kindof smelled like OLD) off this gangway:
Breakfast was offered in a community setting similar to a hostel:
We had interesting conversations at breakfast with people from Europe, Canada, and South America before going off to see the sites each day. Of course we talked politics, as they were excited about the possibility of Obama.
Several movies were being filmed during the few days we were there. This guy was starring in one of them:
.
Of course, we spent a little time at the downtown Harrah Casino; we pretty much gambled our way through this whole one-week or so vacation ... an hour here, an hour there at various casinos on the way, meeting Lou and family at a casino, moving on to Tunica casinos, going from there to Biloxi and MORE casinos, and then the Harrah and even Shreveport on our drive home from N'Awlins.
We got so "gambled out" that it took us until this past week to head for Oklahoma for a day again. With the cost of gasoline as high as it is, we decided to try the blue-hair bus that takes folks to
Winstar
each Wednesday morning from maybe 10 minutes from our home. It takes twice as long on the bus, but there's a certain entertainment aspect to it and it's both more cost-effective and environmentally friendly.
Haven't yet gotten into too much gardening yet this year, but the time's drawing near. For some reason, spring cleaning seemed more important after vacation and I found myself washing windows and blinds, reorganizing cupboards, pantries, closets, etc. Will get to garden blogging next.