Do I even need to add "Bad Idea"?
I Emailed
Lucky Vitamin
to see whether or not I'd kill my husband if I sliced the gummy vitamins that had melted on one side of the bottle either during delivery or during the Texas heat of this month waiting for me to notice their arrival on the front porch.
They told me: "Yes, this sometimes does happen during the summer months. We always suggest refrigerating the vitamins for sometime, then they will be fine to consume. Product like this is temperature stable, not like a fish oil or probiotic, so you should be fine. Thank you for shopping at Lucky Vitamin.com.Thank You,ChadLuckyVitamin.com Customer Support1-888-635-0474."
So, I tried to slice the glob in half. I was even successful in that.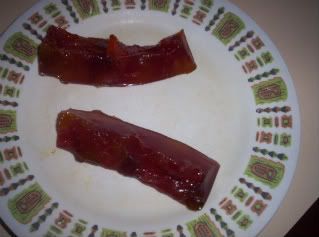 Slicing the two halves into 30 pieces each, however, was LESS successful, as the glob was just as viscous as it could be and even the sharpest knives stuck to it.
It's currently in the freezer awaiting my next move.