Since Em's gonna be spending 4 days/week working through July, I decided to make some work for myself in the "home improvement" area for the same period of time combining cheapskating, environmentalism, and fun (my three current favorites). Spring cleaning is definitely getting that "need to break a few eggs to make an omelet" look as I start project after project around here. Like a butterfly, I'm jumping from one to the other, but eventually it'll all come together, I think. Speaking of butterflies, we have some bushes in bloom that have attracted bees and butterflies like crazy. No. 1 enjoyed the butterflies landing on her when she sat outside until the bees started to land on her, as well. :-)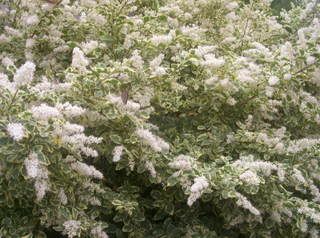 Continuing in the garden news department, the Egyptian Walking Onions Diane sent me last year are doing something again this year. I have no idea when to pick these things or what to do with them outside of watch them grow. You might notice in the pic that last year's mint is coming back as well as weeds & grasses, so I need to get out there a period of time each day to engage in garden management tasks.
Speaking of gardening, as part of my Spring/Summer make-work project, I'm adding to our inside plant collection. Left alone, Em would be happy to have a home overrun with pothos (pronounced POH THOSE). I intend to mix it up a bit and have been combining that thought with cheapskating to get a few new starts going.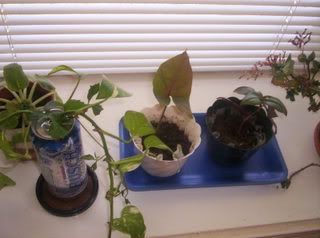 This part of the projects started when I found a sprig of that purple striped leaf plant laying on the street during one of our walks. It probably broke off while moving the plant somewhere, but I knew from experience that it would grow roots and develop a new plant, so brought it home and stuck it in a beer can full of water. Then, I saw a Grape Ivy on sale at Kroger outside the store, pinched off a 1/2" piece and put it in my pocket. <-- I STOLE it! I'd feel guilty about the theft except that I know that these plants NEED to be pinched off to keep their fullness. THEN, I went outside to seek out that ivy I'd worried might be poisonous last year. It's something that many folks grow indoors but grows wild outside here. I found it in my backyard & pinched off a stem of it, as well. THEN, I saw the long trail without leaves on a pothos & couldn't resist the prune. Next step in this department will be moving our dying rubber trees to a location in the backyard. Rubber trees grow outside here and these guys REALLY need a change. Spring cleaning with Herbie has been moving along at a snail's place because it's boring. Vacuuming the corners of the walls is necessary to get rid of the brown recluses, but we've been entertaining the thought of getting the walls painted for a while now. So, combining cheapskating, environmentalism, and fun, I've begun a series of experiments using milk paint. I chose a wall that was small and self-contained (albeit smack dab in the center where everyone can see it), mixed up some old powdered milk with water and slapped it on the wall with a rag.
There are several things wrong with this "paint". I'm not sure if it's because the dry milk is so old or not, but it has an odor that's slightly offensive to me. I'm thinking of adding vanilla to mask that odor, so I'll wait to see if that helps. 2nd: It has a yellowish cast to it (as perhaps you can tell by the photo) and we're really into more of an off-white wall color. We don't do other colors, so I've moved on to pigment considerations and more milk paint "recipes". I tried washing that stuff off the wall today, BTW, using earth's enemy
Tide
and it didn't come off. So, I need to overlay it with a pigment of milk paint more acceptable to our tastes. I'm thinking that I can add small portions of off-white paint to the mix and have a gallon of touch-up paint left by the builder. That'll be part of today's experiments in "How to make a house look like EVERYBODY lives there". 'snew with y'all?