First trip to No. 2's apartment this past week revealed that it has SEVEN doors. Once inside, I felt like I was in one of those Science Fiction movies where the escape from the maze is through THIS door...or maybe THAT door. Pick the wrong door and you go down the rabbit-hole.
I had a good time there; despite the small size, the place has great warmth and character (like its residents). We had brunch and dinner there on Thanksgiving Day. Silly-O (pictured) brought deviled eggs, which were scrum!
Saturday after Thanksgiving, No. 2 and I checked out some downtown Chicago activities like Christkindlmarket (a German Christmas tradition). She bought a cashmere scarf from this particular vendor.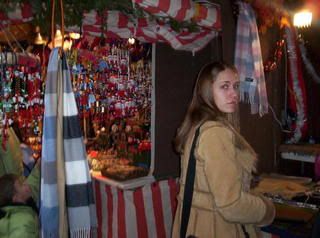 We also checked out the ice-skating in Millenium Park. I was VERY glad we hadn't planned on engaging in that particular activity.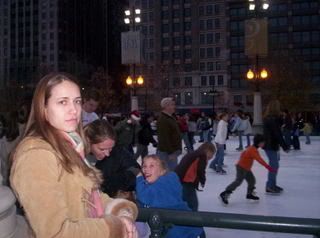 Inbetween visits with No. 2 et al, I spent some quality time with my oldest friends in the Chicago area. Always great to see them! Got a call from the mysterious unidentified uncle while there; how great is THAT? He's doin' fine. Here, we'd taken a little trip to see B'Hai temple.
Last (final) stop was back to see the tree at No. 2's.
As they say, "From our house(s) to yours!"