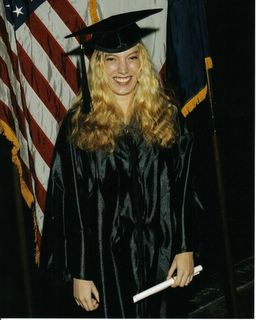 Hopefully, this will be a smaller version of #1 graduating.

Couldn't seem to shrink the image using Photobuckets, so I'm now using Hello from Picasa. Think I mentioned how I was gonna take some time off what I normally do to help #1 heal...physically, mentally, and spiritually. She quit her job and we're working on relaxation, diet changes, and exercise. She's making some extra money this weekend helping a friend with a sale so I can report a bit on what we're doing. I've been a firm believer in the mind and body being ONE since maybe a teen, so we're concentrating on positive imagery for the mind while exercising the body and taking the diet into a more alkaline state. She's suffered for years with Interstitial Cystitis, so I've ordered two books written by Catherine M. Simone for her to read after they arrive. Simone has the same problem and has learned to cope with it. #1 needs to cope with it, too, IMO, so I think those books could help show her HOW. Today, Em and I will go to the library to borrow
The Acid-Alkaline Diet
by Christopher Vasey. We've spent this week looking at the Alkaline/Acid Theory, but didn't really try hard to incorporate it fully because we don't yet know enough to do that. If this doesn't work, we'll move on to something else, but I'm not ready to dismiss it without a trial of several weeks at least. Got half of the garden weeded and fertilized with #1's help this week. Planted a few more onions and more arugula. Did the walk to Walgreens and back, as well. #1 said that it was the longest walk she'd ever taken intentionally. What else...saw Jack Black in his latest on Monday. If offered the opportunity,
skip it
. It's definitely NOT his best work. Next week we'll do some swimming in the community pool, more gardening, more walking and work on the mind/body connection. What have y'all been doing lately?