Halloween has been canceled here this year for the first time. I hate that this happened, but I've grown tired of some things.
I've grown tired of buying commercially packaged (in plastic) candies, which cost more every year as they shrink in size, sold in an additional plastic bag to hold the 15-20. I've grown tired of 100 kids coming into my neighborhood on one night/year to get the shrunk-in-size, commercially packaged (in plastic) candy. Only five kids (max) live on my block.
So, I thought to make cookies this year and package them in paper sleeves for trick/treaters. Then, I read that most mothers would throw them away for fear of poisoning, razor blades, or unicorn spittle as a recipe ingredient (They're ALL urban legends!)
I don't want to be the "Get off my lawn!" grinch, but I also don't want to waste 10 eggs making cookies that will get thrown away or support the industries that shrink their candy while increasing plastic packaging each year, or support kids from other neighborhoods taking advantage.
So, that's where it is on Halloween Eve, 2009. Em will be at work tomorrow night, and I'll retire to a room at the rear of the house to watch a movie or two. I, now, feel, officially like an old lady ... in my new loveseat recliner.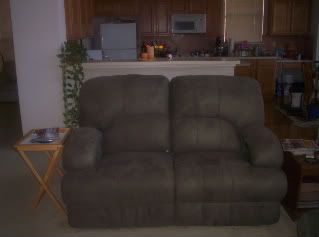 Be safe, trick-or-treaters.