Top of the mornin' to ya. I thought we'd get a wee bit of St. Patty's Day celebratin' off to a good ol' start before the day arrived. Not sure how this is going to work, but let's try out a little bit of me new acquired skills:
Since I lack a digital camera, I have to rely on what other people have posted at the moment... And let me state that I'm a little less stressed about this coming Saturday since my one boss told me that they won't be having no bullocks this year. All incoming celebrators will be filtered upon entry. That means that anyone already pretty drunk or with intent of becoming extremely intoxicated will NOT be welcome through our doors. That will affect my finances a wee bit, but I think I'd rather make sure this St. Patty's Day is a mild one with less problems that a wee bit wealthier of one with lots of violent eruptions, chaos, and possible involuntary digestive projections. I will do my best to get some photos, but we might have to settle for the ones my cell phone takes if I can't find any of my myspace friends at the bar with their camera's.
But to add some other photo's, here's one that a customer took with a disposable camera and scanned and sent to me... Gotta love photobucket!!!
Oldnovice update: I deleted or fixed what most of us couldn't see above, and now add a photo of No. 2 on THIS year's St. Patrick's Day (as well as some of her and some other Davidson's crew):
The green hair wouldn't work, but the overall effect was great!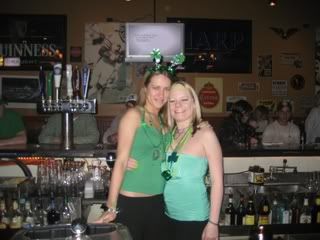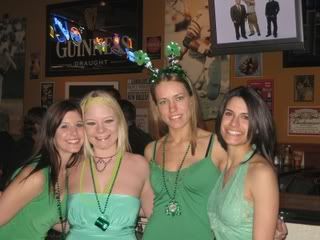 /Oldnovice update Oh, on another note, I've come to realize that even though my roommate and I are total opposites, we are definitely the ying to each other's yang. We seem to be different in so many ways, but when we come together we find total harmony and seem to balance each other out. Hoo-rah for my best friend and hetereosexual lifemate! :) Definitely time for bed. xoxo