Life's a whirl to me lately; I can't keep up sometimes, it seems. <-- my excuse for not updating the blog sooner. January was VERY fun. No. 2 came to visit us here in Texas and went to the gym with us.
No. 1 went with us, as well, and has continued to go with us even after No. 2 flew home. We're really enjoying our gym time; THAT's for sure!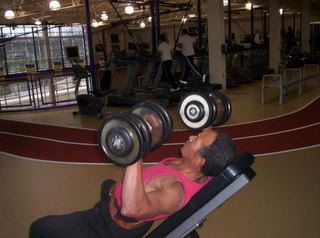 Em and I also got married on the 17th: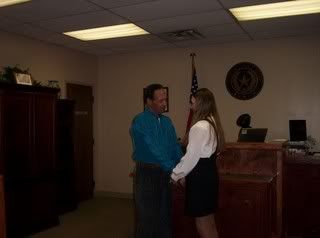 We HAD more pictures of the wedding, but they so closely resembled Denzel/Angelina that we figured we'd bore the net audience if we continued to post them. No. 2 left for LV the day after our wedding and we left for LV just a few days afterward (none of this was pre-planned), and she bought us tickets to see
Le Reve
. She couldn't have chosen a better gift for us, as Em and I BOTH loved the show. Thank you, No. 2! She also did a good job feeding us at the Wynn after the show, but I don't want to make too much of her doing that because my other two children might think that I'm only pleased when my kids spend lots of money on me and (while that might be true), I don't want the other two kids to know (if you get my drift!). (big grin) Back at the Texas ranch(cough!), we found ourselves in February. 68 degrees this past week outside while some of y'all in Illinois had schools close due to snow! Newly incorporated into our routine is a once/month mid-day outing to a local activity via a cheap, interesting place to eat lunch. February's offering is Scotty's Deluxe Diner in Haltom City, TX. It's a one $ place that has breakfast all day long, endless cups of coffee, and friendly servers. We each got blue-plate specials for $4.99 minus 10% just for being old.
and when it was almost time to leave, I saw Denzel(in a silly hat):
We stopped at the diner on our way to an exhibit of 150 photos from "
This Great Nation Will Endure
"
Photographs of the Great Depression
. The collection in its entirety is 80,000, but we saw 150 of the most popular, most intense at Tarrant County College, Northeast Campus. We spent about 3 hours there viewing these 150 photos. I can't imagine how long we might spend viewing the 80,000 if they were ever made available for viewing. We thought it worthwhile, for sure. If any of you are in the area, I think you'd think it worthwhile, as well, or you can view them online:
Photos
.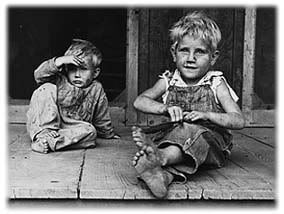 Are y'all havin' fun?