Yesterday was my roommate's birthday and in recognition of my heterosexual lifemate's date of birthing, I had a few things planned. First was the morning party. After work on Friday night, I came home and decorated the apartment while she was sleeping. I didn't get to blow up as many balloons as I wanted since after working over 40 hours in 3 days at the bar, I was a little tired. The first part of the day was a success. Apparently, she had to pee at about 8am, and awoke to the surprise. She told me in the morning that she wondered why Tony (the boyfriend) jumped up with her (he knew about the surprise) and wanted to know where she was going.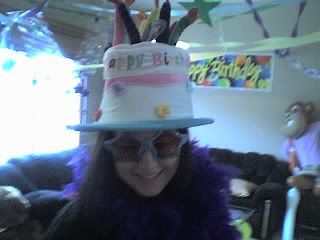 There was all sorts of fun stuff scattered, also. I got a few of those party toys that we like to play with occasionally, too. And no birthday would be complete without a silly hat and a feather boa. :)
Next was the birthday breakfast. Tony had said that he would cook for us, and we watched Breakfast at Tiffany's in color while we ate. Immediately following was the trip to the Nail Salon to get mani/pedi's. Now we were starting to run out of time, and I realized that I don't have a nice pair of dress pants that doesn't have bleach stains on them from the bar. We made an emergency stop at Kohl's on the way back home. This made me really think of you Mom and your 3 hours in the thrift store. I myself am NOT a shopper, and I rarely try clothes on in the store. I've gotten to be a pretty good judge on what I like and what I think will fit me and for the most part have success at buying things that fit. Anything that was too small usually just got sent to No. 1. Now that may be a problem. But I still keep stuff for her to dig thru when she does come out this way. I was in and out of Kohl's in less that 15 minutes with 3 tops, a pair of capri's and new shoes. One top was on clearance and casual, two dressy shirts that both matched the capri's and a pair of capri's that turned out to be a tad too big, but luckily came with a cute cloth belt. After that we probably got ready in half an hour with BOTH of us having to shower and we headed to dinner. Dinner was at a Greek restaurant that had belly dancers performing that evening. This was all a surprise for Jenny and we had 12 family/friend members meet us there as part of the surprise. Dinner was great and went off successfully. After that, we headed to the nearest bar/club. That turned out to be a lot of fun. I can't remember the last time I went out dancing with my girls and this was one to be remembered. For some reason when I was wearing the purple feather boa, I felt like I was invincible and auditioning for that show, "So you think you can DANCE." I was a dancing fool like no other and loved it! Come midnight things were starting to get ugly. The boyfriend got extremely drunk and irrational so we decided to relocate. We came back to our town so that we could go to the nearby bar and drink without the worry of driving. We closed down that bar, and things started to get uglier. Another friend's boyfriend decided that he hated everyone, flipped out, and wanted to leave. After a lot of yelling and irrational anger, I decided to try and get my police friend involved to see if HE could calm him down. I walked to the police station (around the corner), but they were CLOSED! Oh no! I walked a couple blocks more to see if he was patroling his usual spot, but he wasn't. (Keep in mind now that I myself have had a couple drinks and left my house with only my keys.) I find a payphone and decide to try calling the police. It was completely unproductive and went something like this: I don't know the number to the police station, so I dial "O". Operator: Hello? No. 2: Hi. Can you please get the (insert town name) Police for me? Operator: Is this an emergency? No. 2: No. (I really couldn't call it an emergency in good conscience since no one was hurt. I was just trying to be preventative.) Operator: Then can you please deposit 35 cents? No. 2: For the police? Operator: Yes. No. 2: But I don't have 35 cents. I just need to speak with the police. Operator: But you must deposit 35 cents in order to be connected. I hung up. That did me no good. I finally go back home and find the irrational boyfriend and his girlfriend had left and my roommate had found my police friend and told him I was out looking for him. We settle the situation. Everything seems to be winding down. We make and eat a pizza. THEN!!! Jen uses the bathroom and the toilet overflows. Water is everywhere. We realize that we don't yet own a plunger. As soon as we get THAT fixed, our FIRE ALARM goes off. Mind you, it is now about 5am and our alarm is connected directly to the firestation since we live above a store. A few minutes later, my cop friend is back outside our apartment. Then the fire marshal shows up. Then a big fire truck shows up and 2 fully dressed firemen have to inspect our whole building. Nothing. They can't figure out what happened. My poor cats already had a big problem with balloons all over the house, and are now hiding under Jenny's bed from the horrible noise our fire alarm makes. We finally get everything settled and get to bed around 5:30-6am. WHAT A NIGHT!!! Jenny was very upset at this point and felt like her birthday was such a burden. I made sure to remind her that everything that went badly happened after midnight and technically was NO LONGER her birthday. I'm just thankful that in the end no one got hurt. And of course today, my boss tells me that I should just stay at work all the time because bad things happen when I take a day off work. :-) Wow. That was a really long story. But what a night! And these are the days of my life...