Tonight, we're going to "Drinking Liberally" in a town nearby after dinner. Does that bring to mind a picture of a Sot? <-- That's a word No. 1 taught me playing Boggle. I'm pretty sure it means someone who over-drinks. Some parts of the country have "Eating Liberally", and the picture that comes to mind is of over-eaters (like Ekans, for instance).
It's not about gluttony, but sharing time with other liberals.

Gonna bring my camera, so I'll update with any offerings that show promise.
Update: What a great bunch of people! This particular branch (Drinking Liberally Mid-Cities) serves a wide area, IMO. They meet at Esparza's Tequila Factory and Grill, 3314 Harwood Road (just off Hwy. 121) in Bedford, Texas. Esparza's is tucked into a little corner of a strip mall on the South side of Harwood, East of the Tom Thumb. It's kindof far for us to travel (@25 minutes by highway), and my plan is to learn from them how this thing works so we might start a branch closer to home. Todd and Kathleen did an excellent job getting this branch going, so I couldn't ask for better mentors. What I'm gonna need to do, though, is not get so attached to these people that I forget about how far it is to travel and my plan of a branch closer to home. They have a great mix of liberals, and I already look forward to the next meet.
Esparza's offers (apparently) the Drinking Liberally crowd an entire room off the entrance to their main dining area. There were about 11 people there when we arrived, sitting at two long tables.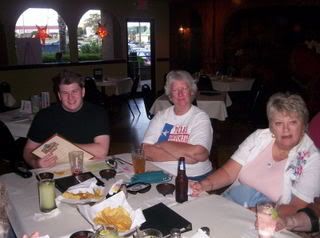 The woman on the right is running for some office in a town that isn't ours. Kathleen said that candidates oftentimes join them, not to speak, but to mingle. We got a U-shape going by moving furniture around after more folks came.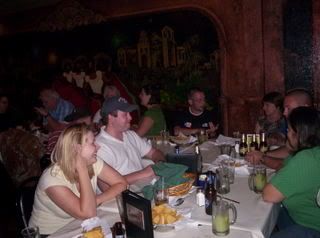 I wore the shirt you sent me, No. 2. Em cut my hair before we left (BEST.HAIRCUT.EVER!), but I still had enough to hide the shirt if necessary. John and Heather (shown) are students at UTA, and John's a veteran of
Drinking Liberally
, having attended three different offerings. He thinks Mid-Cities is the best of the three and I can see why.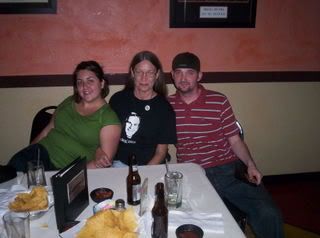 In other news(bad), a pickup truck hit the Mustang while Em was stopped at a stoplight on the way to take No. 1 to school yesterday. Em wasn't hurt at all, the driver has insurance and admitted it as his fault, so the car will enter the shop today while Em gets a rental.
In other news(good), Bill (nextdoor) found a car for No. 1. It's a 1997 Honda Accord and she could have it as soon as this weekend, putting behind us the madness of chauffeuring her to school and work each day. Life is good!
(Thanks to No. 1 for the pics of Ekans eating on his veranda.)