It's cool enough to bake indoors now, but today (and tomorrow) are totally clear days, so I continued the experiments in solar cooking. It's been evident that the solar oven lends itself easily to things like roasts, stews, casseroles, but we really like meals that don't combine all the flavors so much while cooking.
As I may have mentioned previously, the swinging shelf in the Sun Oven is both limited size-wise and tends to be a bit unstable when accommodating heavy items. Those two limitations have restricted my solar oven use to mainly two cooking pans with infrequent use of a few other light pans.
Today's experiments were a bit different. Since everything pretty much seems to take 2 hours to bake in the solar oven (at least early in the day), I started off at 8:30am baking some of the sweet potatoes harvested last week. My goal was to peel, mash them with some brown sugar & pecans, then bake them again.
The day was so accommodating weather-wise, that after I baked the sweet potatoes I baked red potatoes and a couple of red apples. I'll make potato salad from these tomorrow.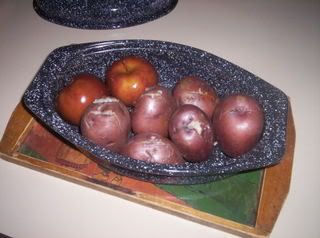 I'd had success previously with making a spicy breaded chicken in the solar oven, so prepared that dish again for today after preparing the sweet potatoes in a heavy glass casserole dish.
I peeled and chopped one of the baked apples to go into a spinach/arugula/cheddar side dish to be baked in another heavy casserole dish. I was pleased that even a klutz like me could arrange the two casserole dishes on the swinging tray without toppling it all.
By the time Em got home from his grandson's football game and a few errands, the before-work meal was ready and I hadn't used any energy but the sun.