Em and I both have been having some stomach problems lately which we felt were associated with eating too late and having too heavy a meal.
So, he threw down the gauntlet this week. Starting yesterday, we'll try to eat lighter and earlier in the evening so we can sleep with no problems.
A few days earlier, I'd made up some
Cajun Trinity
. Froze two quart bags of that, which will work out well for these dietary experiments.
Last night (first night) we had :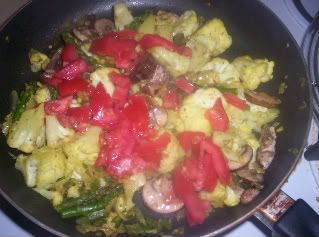 Cauliflower, asparagus tips, mushrooms and tomatoes tossed in at the end ... served with 4 frozen Armour meatballs that got nuked for 3 minutes.
Doesn't look like much, but that's the point.
Tonight, we're going to have something similar with different vegetables using quinoa as our protein source. Gonna also add some of that trinity I froze earlier in the week.
Good week to start reading
Omnivore's Dillemma
. I'd previously been concerned that Em might hate me if I took away his meat. Now, he seems to be saying, "I want to eat lighter meals; I'm looking for an alternative."
I'm thinking we'll try this "cutting back" approach to it all and see how that works before making a rash decision on dietary changes.