We share a pool with other members of our Housing Association and I bought
Swim Ways float with canopy
so Astrid (now 4 months old) could enjoy the water.
The first time in the pool, we had her laid back, but this week (second time) we tried her laying forward. She enjoyed that more because she could see everything better, but both experiences were quite a bit to take in. I thought she might get over-stimulated and scream her complaint, but she seemed to enjoy the experiences and give more subtle signals when she'd had enough.
Worried about the Texas sun on her fragile skin, the canopied float was a good idea (particularly for babies who don't enjoy wearing hats). No. 1 took her out of the float this time (so we got her hat on her bald head) and let her get a taste of the water more upfront and personal.
Our housing association doesn't put chlorine in the water; they salt it instead. I guess that's cheaper, so keeps our dues down.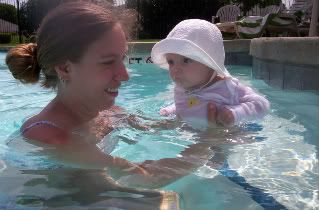 She particularly enjoyed standing on a ledge at the edge of the pool, just like she enjoys standing EVERYWHERE.
Looks like I'm gonna need a video camera to capture the action. I had the feeling that (if left to her own devices) she would have held her breath and dived down. No. 1 was unwilling to risk the consequences of an experiment on that thought.