Yesterday, Astrid and I made cookies from one of those packaged cookie mixes. We'll get around to "from scratch" eventually, but I wanted her first experience to be fast and easy. She's had the
Paula Deen Child's Baking Kit
for a while now and loves to "play" stir, mix, etc. She's 17 months old now.
No. 1 doesn't garden or bake, so Astrid's experiences in these things come on my watch, which is still M-W-F from (roughly) 11-2. Her swimming experience is mostly while she's here, too, simply because our housing development has a pool, but No. 1 joins us for that. She's quite good at swimming now with the exception of remembering to keep her mouth shut, as she loves to laugh at the fun of it all.
I got all the baking stuff laid out before she came, set out an egg and a stick of butter to warm up, and pulled over to the island the two stools that typically stand at the counter between the kitchen and living room. I removed their "hats" to provide more friction.
We had fun. She was very interested in the process, using her Paula Deen utensils to beat the egg and mix the butter, egg and batter. Of course everything got tasted individually first and she finished up the mixing with her hands (which I do myself on occasion).
She's one of those bakers who likes to eat the dough as much as the cookies. I was a little worried about that (as well as the raw egg), but it turns out that both
are myths
unless the egg is "bad", which we'd probably notice.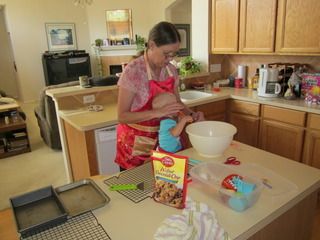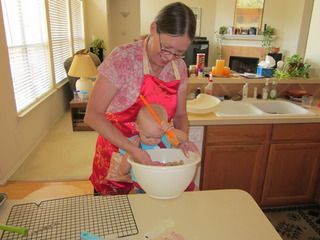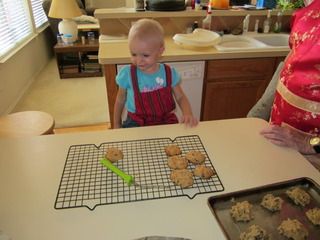 Since it's WAY too hot to bake, I used the convection oven's bake feature and small pans. I was afraid to let Astrid near the hot pans, so laid out the cookies on cooling racks where she could test each for proper temperature by giving them a lick.