I'm into
new
for this thread. No. 1 has a
new
boyfriend, Daniel, who sent her flowers to arrive before she did on her trip to Illinois for Christmas.
I ran into the
new
owner of my folks' house in Chicago while I was in Illinois. Seemed the guy I'd assumed was a city worker noticed me taking pictures of his house, saying, "I'm over here if you're looking for me!" I spun around and took his picture with the neighbor he was helping bag leaves.
Once he learned who I was, he told me that he'd been waiting YEARS for me to return and see what they'd done to the place. He mentioned how he'd not wanted to buy it because it needed so much work, but how his wife loved it. He'd thought they'd stay there 4 or 5 years max, but 16 years later, his wife is still in love with the place. THAT's house-love.
He gave me the tour of the inside, as well. Remember the frontroom where you played each morning, children?
Kitchen:
Back porch: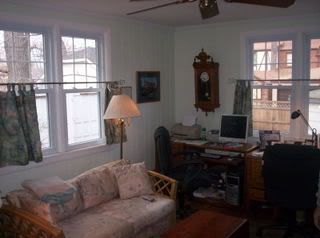 My folks' bedroom became an office at the front of the house upstairs:
In other
new
s closer to home, Em and I are taking advantage of how our new health club is smack-dab between Forth Worth and Dallas near the road that connects the two.
New
on our agenda: outings to places of interest (including lunch at places of interest) at least once/month. In December, 2006 we saw the
Hatshepsut
exhibit after lunch at
The Montgomery Cafe
:
When you come down, No. 2, we're gonna take you to the club followed by lunch at
The Angry Dog
, followed by a visit to the
Women's Museum
in Dallas. We don't know if we'll like any of that, but that's the whole point of doing
new
stuff in a new year, right? What's
new
with y'all?