My trip to Illinois was VERY GOOD! On a scale of 1-10, it ranked up there with maybe a 9 or something. Some days I just feel happier than a fly on a manure pile and I wonder why one woman should be so blessed as to have such good luck in life. Our first day there, we ran errands which included a trip to IKEA. Their salmon meal is to die for, but I bought some cheap ($1.49) IKEA cloth bags for No. 2, Jen (her roommate) and myself while there. You get extra points for noticing the IKEA bag hanging from my shoulder in the pics. You ALSO get your name entered into a $30.00 grocery prize drawing if you bring your IKEA bag to
Trader Joe's
. (You get that for refusing their bagging in favor of ANY bag you brought, but we got it later in the week when I brought the IKEA bag). No. 2 and I spent the next night at the HI-Chicago. We made it to the Farmer's Market that's about 150 feet from her apartment before we left, missed kite-flying, but got downtown early enough to walk to the Museum of Contemporary Art via a round-about path through the Cultural Center where we lunched listening to a fair local band play. Continuing North, we passed the old Water Tower. There's quite a nice outdoor rotunda beside the Water Tower, so we took the opportunity to rest my "dogs" on a bench and sip from a water fountain. I wore shoes thinking we might go bicycling on the lake and these feet of mine hadn't seen gym shoe abuse in years, I think. The blisters are just now abating, as I wore those shoes the whole 9 days I was there.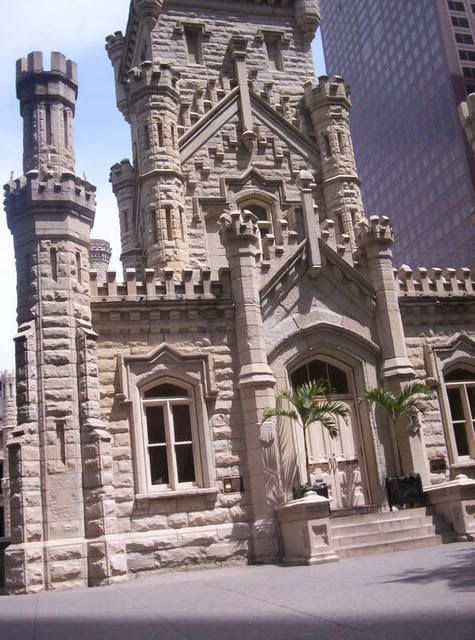 The Museum of Contemporary Art was right by the Water Tower and Tuesday was "free day", so we stopped in to view their latest exhibit. It wasn't really our "cup of tea", but there was one exhibit that appealed to me:
The above photo resulted in a security guard rushing over to chastise us for taking a photo of the exhibit with extra chistisement for TOUCHING the thing (which I did, and I knew I shouldn't, so color me guilty.) No. 2 is really fond of Navy Pier's offerings, so (since we were so close) we decided to continue our walk to include that. We took a boat ride on the "Anita Dee". Heh. On that boat ride, we learned that the Water Tower was one of very few buildings left in Chicago after (heheh) Mrs. O'Leary's Cow burned down the whole city. Made sense, seeing as it wasn't made of wood like most of the rest of Chicago.
After that we walked over to the
Rainforest Cafe
, where No. 2 treated me to their version of a hamburger with ANOTHER beer. The food's not great there, but the environment is interesting: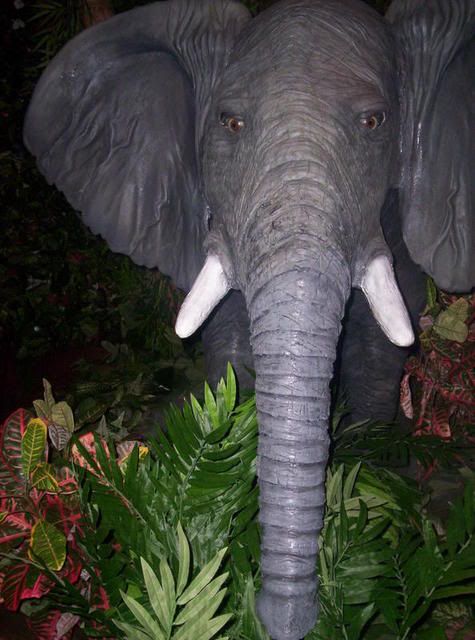 The animals made noises, moved around, and it was a little like being at
Chucky Cheese's
for a kid's birthday party, IMO (and the birthdays abounded on the day we were there...just getting the pic of the elephant meant I was surrounded by a spontaneous burst of song & joy at a nearby table). The next day we met my friends downtown for the most exquisite pizza in the world at Exchequer's Pub. I don't like to think of myself as an over-eater (and you can just stuff the comments about the belly seen on the Anita Dee photo above), but I think I ate at least 1/4 of that pizza MYSELF! It was SO good! Thanks, Dave and Robert! There's no good pizza in Texas, IMO. No. 2 took us for pizza later in the week at Fox's and there's no good pizza in Illinois outside of Exchequer's, either, IMO. That was SO good! UHH! We ran off the Exchequer pizza by hustling north again to Navy Pier. No. 2 had the notion to see Cirque Shanghai at 2pm, and we'd left the SOUTH loop area at @1:20. We made it into the show at 2:10. Outside daytime Cirque shows just aren't the same. Of course they don't COST as much as the traveling nighttime (more magical) Cirques, so we "got what we paid for".
Good enough! We hung around Navy Pier long enough to peruse the shops:
and check out the art exhibits: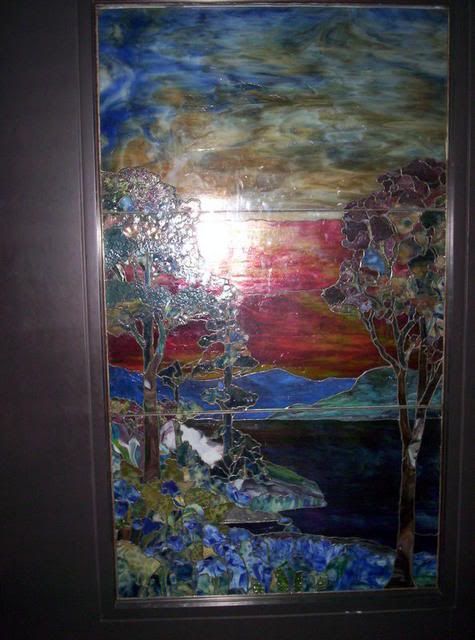 We walked back to the car via the lake route, traveling inland only to accommodate a stop at my Alma Mater to take a picture from the Student Lounge:
The rest of the trip was spent further south and west of Chicago, closer to No. 2's abode. After that day, No. 2 and I went to her gym, got her passport application sent in, and did a bunch of other things, but (mostly) I spent time with my son (No. 3). He's not as willing to have his picture plastered all over the internet or his activities mentioned, so I'm gonna end the trip report here. Doesn't mean I didn't have a good time with him (because I DID). He whooped our butts in a game of Risk 2210 (or something like that). You got anything, No. 2? While I was gone, No. 1 child had the unfortunate experience of a drunk driver plowing into her car. Em went to look at the damage this morning and he thinks it's fixable. She needs reliable transportation to finish school (which starts pretty soon). PPFFT! I forgot to mention the Navy Pier environmental exhibit. There are many earth replicas (all different and each sporting a separate environmental concern). Here's No. 2 posing at the one we thought most photogenic: