Last night was the event mentioned previously called
I think I also mentioned that I'd volunteered to host a Climate Party in our home for MoveOn.Org. We'd never done anything like this before and weren't sure what to expect, so took some prudent precautions to ensure that SOME things weren't just out laying around, but after the folks left we laughed at our concerns. I don't think you could meet 14 strangers nicer than these, and they brought GREAT food and drink!
Most everyone brought their own plate, glass, utensils, and I'd thought to run the dishwasher so they could take everything home clean, but there was more food to eat and then dessert to eat and seemed like I couldn't keep more than 4 plates in the dishwasher (which would be a waste of energy to run). So, some washed their stuff at the sink and some took their stuff home dirty, but Em and I had only OUR dishes to clean, a very small bag of garbage for the dump and a recycling bin full of beer bottles. I LOVE liberals! I'd ask them all to come again next weekend just because I'd like to spend more time with them, but I leave for Illinois tomorrow and won't be back for 10 days.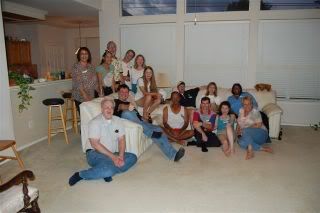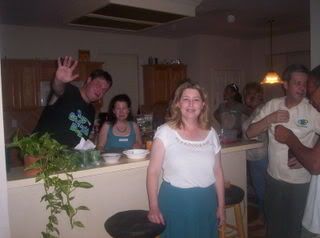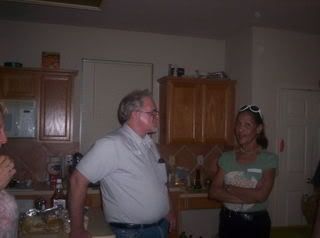 Thanks for a great evening, all of you, and expect to be invited back soon!
In other news, as I just said, I'm leaving to spend 9 days with No. 2 early tomorrow morning. Finally printed off my itinerary for Em this morning at his insistence (lol), and got our laundry hung outside. No. 1 is coming this afternoon for a boggle or 20, so I need to get important things (and unimportant things) done while I still have a semi-working brain. She's also gonna take Ekans over to Dave's when she leaves here today. She has a designated driver (with a truck) this time because last time I wouldn't let her leave. Ekans is really hungry, I think, but his activity may be because of the humidity with me leaving the windows open and turning off the AC.
BTW, we DID turn on the AC for the party last night. It was still pretty warm in the house, but 16 people create a certain amount of heat.