Had a really, really SUPER FUN vacation in Illinois around Thanksgiving. No. 2 and I spent several days together just doing stuff that No. 2 needed to do. Her work and school schedules don't stop just because Texas Mama comes to town, ya know.
After a few days, No. 2 dropped me off at the home of my good friends, Jud and Bob. I'd gotten tickets for a concert near their home, but I needed to help chop vegetables for Thanksgiving dinner if I was to expect them to attend.
Bob and I slaved away in the kitchen while Jud slept. I exaggerate only SLIGHTLY, despite her objections. Heh.
Had a really great dinner at the home of Bob's dad and got to see Jud's family, as well.
Said farewell to my old friends with dinner at Davidson's.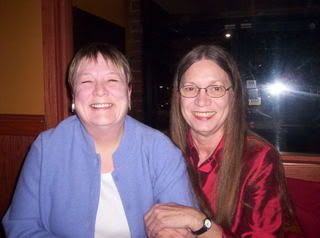 Jen M squeezed in some time for me that evening, too:
Then, it was back to No. 2's place to spend the weekend with #3 and Heather while No. 2 and her roommate went off to a wedding. They acquainted me with
Wii
. We played tennis, bowled, and a few other things. My favorite was bowling, although my thighs hurt for 3 days afterward.
My last day in No. 2's world, we went to Ikea's. We love to poke around at that store and there isn't an Ikea store anywhere near us here (Closest is Plano). As per usual, we ate lunch there, with No. 2 getting the Swedish meatballs and me the salmon. I think we have another tradition going on with lunch and a poke at Ikea's. I bought four more cloth shopping bags there. I absolutely LOVE their cloth shopping bags. They're larger than normal, accommodate heavy items readily, and have long shoulder straps ... all for the low price of $1.99. I'd purchased one of Jewel's cloth bags during a shopping trip when I first arrived (for $1.00) and use it for produce shopping. She dropped me at the Metra Station before she left for school and I spent the last night of my trip at HI Chicago.
HI Chicago had an outing on my last night in town ... to Smoke Daddy's BBQ place/jazz bar. I joined 13 others who took the elevated train there for dinner. Two of the 13 were guides from the hostel. The fun I'd been having with friends and family now extended to fun with strangers, and I spent my last day downtown with one of the folks I met that night, showing him the sites of Chicago. Good times... good times.