My latest experiments in life include an attempt at being more of a
locavore
. Combining the crayola diet with cheapskating lent itself to growing stuff right here. We planted a few things before I left for a vacation in Illinois: blueberries and blackberries, respectively, for instance.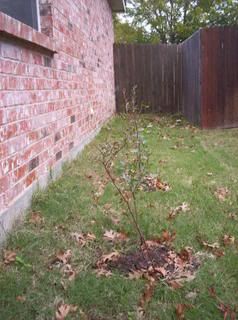 The blueberries need a mulch of pine tree needles and my old friend, Jud, came up with the perfect cheapskating idea for getting those. "Wait until your neighbors throw away their Christmas trees and snip off some branches." D'Oh!
We still have some raspberry bushes to plant, but we got the peach trees planted yesterday.
That was WORK, as the holes needed to be pretty deep and wide. Em helped me and that little job pretty much drained both of us. We'll probably get the raspberry bushes planted this week; even have a hole all ready for ONE of them. They didn't arrive until after I got to Chicago, though, so they can still stand a little more acclimating to the local climate. There's a lot to be said for acclimation, IMO. For instance, we're still HERE:
Chicago last week was more like HERE: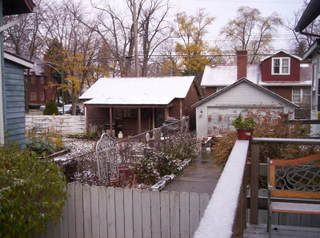 We still have highs in the 60s, 70s, and even 80s. Drops in temperature into the 40s have us turning on the heat. [Em turned the heat on while I was in Chicago, set to 74 degrees, and we still felt cold!] Sorry, Crunchie! Fortunately, the heat doesn't turn on often. Moved the rubber tree back inside. You might remember how pathetic it looked before spending this summer outside, but here's a reminder: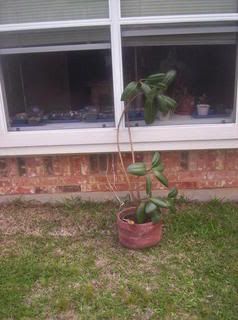 It's back inside now (after a long internal debate on whether or not I wanted to let it be an outside rubber tree planted in the ground). I'll revisit that thought next year.
I'm easing my way into post-vacation life this week. No. 1 came with Dave for a Boggle yesterday, so it's a very good thing we got the peach trees planted beforehand.
Made my last purchases of "Made in China" goods before vacation. Hadn't even noticed where the stuff was made before I bought it, but decided that "enuf is enough" after noticing. We don't celebrate Christmas, but No. 3 has a birthday on December 23, so he'll be the test case for whether Americans still make decent stuff, I suppose. Let me know, No. 3!