Lately I've been doing some "Spring" cleaning, not "kill yourself doing it" cleaning, but fitting in something each day ... maybe reorganize/reinventory a cabinet, wash windows, blinds, carpets, etc. Today I didn't feel like fitting in a cleaning job so baked cookies and made yogurt instead.
Have had instructions published by Mary Hunt in
Everyday Cheapskate
saved to an Email "cooking" folder for quite a while now. It's a cookie recipe which uses boxed cake mix. For a long time (it seemed), we could buy cake mixes on sale using manufacturer coupons for maybe $.25, so we have quite an array of flavors/types in the baking cabinet. Because we're such a small family and I don't want us to go overboard on sweets, I measured half the box cake (enough for 1 dozen cookies) and saved the rest for another time. Half of Mary's "recipe" called for 1 egg and 1/6cup oil to be mixed with the cake powder and 3 oz of something like chocolate chips, nuts, etc. I chose Devil's Food for the mix and walnuts for the something.
Brought the solar oven inside to clean it of a spill made when the too-heavy glass casserole dish chosen for the BBQ chicken flipped off the "swing", shined it up and put it in the backyard this time on the patio table. The sun was pretty high in the sky and the oven quickly got to 350F. I have an almost unnoticeable little blister on my thumb because the glass pie plate I chose for a pan was (again) heavy enough to cause the swing to tip and I wasn't yet wearing my asbestos. The temp went to 325F after opening the door, tipping the plate, etc., so I modified Mary's 9-10 minutes at 350 to 15-17 at 325. I made two batches of 6, using a metal pie plate for the 2nd batch.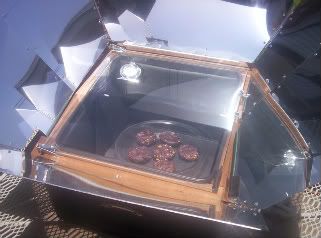 Em loves cookies, so I had one before he got home from work.
Finally tried another attempt at yogurt making also. We like our yogurt firm (custard-style) and my first attempt never gelled AT ALL. This time, I shotgunned it, using EVERY tip I've found online for firm yogurt: Boil it first, Add 1T of cornstarch in boil step, Add 1T of gelatin in boil step (for flavor and gelling attributes), Add 5T of nonfat dry milk after milk reaches room temperature (when you add the yogurt starter), Cook for 24 hours. So, I'll try some Monday morning.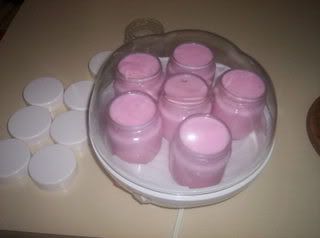 Can't say I understand how I can measure 7 jars of milk and include 6oz of yogurt starter, dry milk, etc. and end up with only 6 full jars of yogurt, but I only got 6 jars the first time, as well. ???