We didn't make it to the YMCA this past week at all; we were too busy. Monday, Em took the car to get the tires rotated and then took it to the local fixit shop to get something else fixed. I think it had something to do with water and the radiator, but I don't remember exactly what. I just know that before this repair the car had a funny odor if one inhaled the exhaust (as in while sitting in the passenger seat while the car was running with the driver's door open). Don't know why I notice so many odors these days; I stopped smoking more than 5 years ago now. I do, though, most common being odors that resemble the odor sensed behind a bus (diesel fuel burning), skunk (traveling on highways), and popcorn (most frequently in a movie theatre, but most recently in a casino ... where the bartender popped corn in the lobby bar). We walked over to pick up the car late in the afternoon Monday.
Tuesday, we left around 8am for Shreveport, Louisiana to spend a few days at
The Eldorado
. We've gamed there for a few years now, but had never stayed there until a robo-call said that we may be interested in a special rate they had. Em had just been talking about taking a trip down there again, so he called and sure enough ... using my card through the years had gained a comp of a free night's stay (If AOI we stayed 2 nights). So, we did. Left Tuesday morning and returned Thursday afternoon. It's about a 3 hour drive for us.
We had quite a lot of fun gaming there, eating out a few times, and sleeping on their magnificent bed. We really queried the front desk about that bed, as we both slept soundly for something like 9 hours on it with no problems. Sealy Posturepedic, they said.
Speaking of robo-calls, I'm wondering why we're receiving so many lately. We're on the national do-not-call list, but we still get them. Last week I even put us on the Texas do-not-call list, because they seem to follow through on complaints while the national program doesn't seem to ... which is why there are these break-through calls increasingly pushing the envelope. Seems that calls are even coming in from over-seas.
So, we got back Thursday afternoon, pulled into the garage and I said, "Crap!" Em said, "What?" I said, "Is that alarm coming from inside our house or not?" Yep! Smoke alarms were going off in every room AGAIN! So, all our smoke alarms are "down" for maintenance and ladders are sitting around the house waiting for us to put the alarms back in working order. We could burn in a house fire without the alarms, I suppose, but we want to take our time and get it right this time.
That reminds me of how my PC crashed recently and I had to download my firewall (without a firewall) when I started the system up again. My credit card was billed TWICE $55.83 for services incurred at
Clickbank.com
on the very same evening that I ordered, downloaded, and had billed to my CC my firewall/anti-virus software. Noticed the charges when I did the bill-paying and notified the cc company that I disputed AT THE LEAST the double charge, but perhaps both charges. If I had a better memory I would have insisted I hadn't ordered ANYTHING from them, but I don't have a good memory, so wrote to the vendor, as well. They cancelled with a refund no questions asked, leading me to believe that they, perhaps (and this is strictly conjecture with NO facts to back it up) just caught my transaction (with no firewall) and thought I wouldn't notice.
Thursday evening, No. 1 called to let me know that her wedding planner would call and take me to see some places the following day after 10am, and she did. We checked out 2 hotels, a store called
Dollar Tree
. We looked at
compostable
paper decorations there, and I fell in love with some glass goblets that I want for any adult who attends. It would be perfect for wine, beer, water, or lemonade, and a great momento of the wedding, IMO. I didn't see those listed on the website provided for bulk orders, however. So, we're "moving forward" on the wedding planning an inch at a time. I'd felt that deciding on a hotel where all out-of-towners might stay should be done ASAP so advance (cheaper) reservations could be made AND so that people have a place to congregate before/after and within a free shuttle ride to public transportation to Fort Worth and Dallas. If you're coming to Texas from somewhere else, it makes sense that you want to see a little bit of Texas before going home again.
I really want to share what we did yesterday just to perhaps warn some innocent people who might think they can save a lot of money joining a buyer's club. I'm not talking about Sam's Town or Costco here. I'm talking about a co-op called APS-Store. I don't know if they're affiliated with any of the APS internet sites, so won't provide any links to them. They ARE, however, a
Direct Buy
co-op.
We routinely accept invitations to spend a few hours on an afternoon listening to some pretty high-powered salespeople try and sell us a timeshare place. We left the last timeshare invitation event with $100 for gasoline, $40 credit card, and a "free" trip to Las Vegas. We used everything ($140) BUT the "free" trip because it interfered with another gaming trip we tend to do once/year, AND it didn't include hotels on the strip ... so we let it expire. We have the same sortof "free" trip to Las Vegas from Saturday's venture, but it's for a hotel on the strip, and at a time of our discretion, so we'll use it this time. Let me make it perfectly clear that we have never purchased a time-share and we didn't purchase anything yesterday, either.
The guy was SO GOOD yesterday, though, that we were noddin' in agreement with everything he said for a good hour or hour and a half and it wasn't until he said, "Do you think you'll pay $15,000 for the rest of your life on items ... (voice fades into distance) ... " and I said, "No." We're cheapskates, for goodness sakes, and trying to reduce our footprints, so we're NOT gonna spend all this money on what we might need replaced in life. Em explained that he was almost 70 and the guy had someone escort us out of the room before the rest of the "marks" got infected. :-)
STILL (just to show you how good this guy was) ... when I got home, I looked for reviews of
Direct Buy
. They weren't the service that sought US out, but they were a similar service. Em had to ask the guy who escorted us out of the room "How much is the membership?" "$4,000" In the car, he said, "Well, when we got to THAT point, I would have turned it down anyway." Here's a guy who can't buy a shirt without visiting it three times and someone telling him that he's got to put out $4,000 TODAY to be able to save whatever the hell people save on this stuff TOMORROW just wouldn't work with him... or me ...
So, [like I said], I looked online for reviews of Direct Buy and came across
ConsumerReports
, except that the only company reviewed there is Direct Buy and all the reports are wonderful. Suspicious? I think so.
Then, I found
video of someone who purchased the membership and learned that he didn't save ANYTHING>
as well as comments from others who'd tried.
Today, I'm thinking about the others in the room with us at the presentation. To our left was a young couple who just couldn't seem to contain their zeal for all the savings. To our right was a couple maybe 20 years younger than us who thought they could buy and sell. I HOPE neither of these couples (or anyone else in the room) signed on for something they didn't want, but we went over it in our minds beforehand and the entire thing revolves around greed getting the best of us.
Signed up for the
Crunchy Chicken Food Waste Reduction Challenge
and here are my confessional photos:
Before we left for Shreveport, we had
Em asked if I was taking my camera to Shreveport and I said, "No ... I just had to take a pic of my garbage." <-- He just doesn't understand this taking photos of garbage part of the process... without laughing about it.
Pics from TODAY look like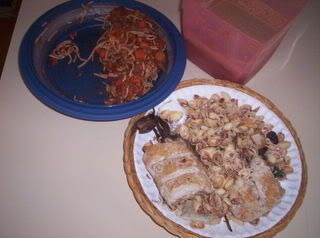 . There's pistachio nut shells, egg shells, spent blooms from No. 1's orchid, some dandelion flowers I picked in the yard before they went to seed, tea bags galore (I don't even bother to remove the staples from the tags on the bags), failed baguettes I'd baked (We ate 2/3, but they sucked), pretty damn good spaghetti with carrots that we ate more days than we'd like to acknowledge, as well as that tomato apple soup that lasted WAY longer than we'd like to acknowledge.
I said I was gonna include in my waste challenge water waste. I tried saving water used in cooking in the bucket that saves my shower water (while it gets to temp) and had to toss the water in the garden outside and scrub the bucket:
Good things that came out of last week were: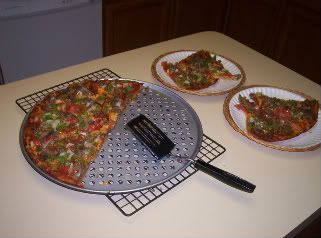 Home-made pizza with NO special ingredients, using spaghetti sauce, sharp cheddar cheese, peppers, onions, refrigerator pizza dough, same type of sausage, pepperoni used on the pizzas made with pizza cheese & pizza sauce.
We enjoyed these as much as the others.
We've really enjoyed pumpernickel bread from Kroger these past few weeks. Sardines on an open-faced sandwich with a little light Miracle Whip works very well for me lately.