We've had more than our share of rain the past week (for these parts -- said with a John Wayne old cowboy movie accent). Officially, we're in a drought ... AGAIN.
We bought two more 5-gallon buckets (with lids) to put on the patio to catch the rain last week and they're now full (along with the two that were already full before the rain last week). Em moved them a little, I think, because when I asked if they were full
ALREADY
, he mumbled something about how I might not approve of him having moved them to where they captured runoff from the roof. We don't have gutters on our roofs here so much, so it's not as though Em set the buckets under a gutter downspout. He set them where he saw a lot of water running off the roof, much like I set the shower bucket where I see a lot of water hitting the floor.
. We're thinking about buying two more buckets (with lids) ... just in case it rains again someday, but we've had other concerns lately.
My worms came from
Uncle Jim's Worm Farm
. I ordered 2000 of them, but I'd be hard-pressed to testify under oath to 200 being in that little bag I got. I spread them about the yard in all the places where I want worms before I read the instructions that said to dump them all in one place because they like to live in societies. Heh.
My peach trees seem to be doing the opposite of what they did last year (respectively). This guy:
bloomed like crazy and produced 10 peaches last year while not being able to get the strength to open its buds this year.
The other one (which did absolutely NOTHING last year) is blooming its heart out this year.
Couldn't remember if they needed each other to cross-fertilize.
You can see some of the fence garden areas in the photos. I put wet newspaper up against the fenceline to deter weeds and set bricks to hold them in place. Took me 2 days to recover from that day of hauling bricks.
Been spending a fair amount of time lately working on No. 1's wedding plans. There's a lot of protocol to be considered and it's all been new to me. Dave's mom and I have been communicating and one of her questions revolved around what I was wearing. That's standard protocol, as the groom's mom is supposed to wear something that compliments the bride's mom's outfit. Who Knew? So, last Friday there was a 50% off clothing sale at the Thrift Store and I found a very comfortable dress to wear: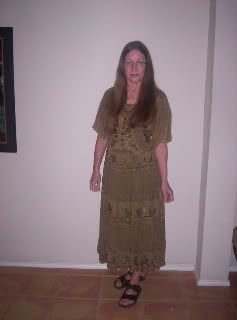 When Em took the photo to send to No. 1 and No. 2 for their approval, he said, "It's really not very flattering, you know." I said, "In what way? Style, color, fit?" He said, "Style, color, fit." So, over this past weekend we went over to Kohl's to see if I could find anything I liked. I found two white blouses that I tried on with a long black skirt. I hated the way EVERYTHING looked.
Today, we made a second stab at the Thrift Store. Wearing my first attempt, I found Em and moved him to right outside the dressing room. He didn't approve of the second attempt, either, so I went on to the third attempt. Whatdya know? He LIKED it: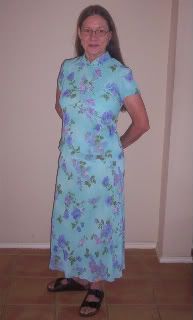 It fulfills, IMO, the criteria of: being comfortable, as well as somewhat amenable to my brown birks. The terrain at the outdoor wedding location has the potential to be slippery/trippy, so I want safe shoes.
Next fashion concern will be for how to wear my hair. Tips are welcome.