No. 2 came on a plane that set down at 1pm yesterday on a trip designed to both surprise her sister at her wedding shower and get a little face time with her mama.
She arrived hungry (like most travelers), and I had mixed success providing her food. I'd thought soup and a sandwich, but the canned lite vegetable rice number in my pantry contained chicken broth. Had a few slices left of really healthy sprouted wheat bread (not to mention all those home-made buns), and she decided on a sandwich of asparagus/artichoke/cheese spread with tomato, avocado, and hard-boiled egg with strawberries, purple grapes, and a bit of kiwi on the side.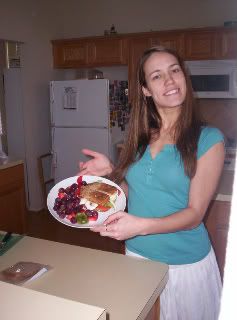 We visited while I finished off the buns and potato salads & got ready to hit the road for the wedding shower. I made WAY, WAY too much food. I should have considered that the crackers, cheeses, grapes, and dipping veggies provided by the shower hostess would have at least cut the food requirements in half. <-- I know that now, for the wedding cooking which will also have a large mixed offering. Lessons learned hard are learned well.
The shower was attended by the usual mix and a few I hadn't met before. I think this was the "Have you known them 10 yrs or more?" photo.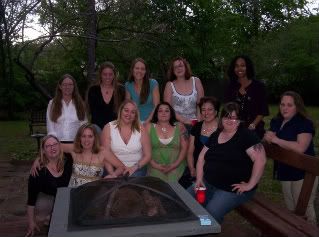 Two more recent (UTA) friends showed up a bit later. In the pink on the left is No. 1's Wedding Planner. She was in the military before she became the leftist pinko for us. :-) On the right is the Mexican who worried, "Are you sure your mom won't care that I'm Mexican?" to which No. 1 replied, "I don't think my mom would care if *I* was Mexican."
It's always a good day when the girls and I are together, IMO.
For some reason I just love this next pic.
After the shower, No. 1, No. 2, and the wedding planner came back to our house for a while.
No. 1 tried on her wedding dress again for No. 2 and the wedding planner, as neither were here for the legal wedding in January.
Dave came shortly after the dress affair and mostly spent time with Em while the girls and I took advantage of being together.
No. 1 and Dave left to meet up with some folks at their place while we shared another hour or two with the wedding planner, ending our day past midnight sometime.
Today, it's all a blur already. Em went to work, No. 2 flew back to the midwest, and others are celebrating religious holidays. We'll be having pulled pork sandwiches with potato salad for supper.
Updated to add another pic, just because I love it and I just learned how to split screen and copy from one window's contents to another.