Today was the first day in a long time without rain or totally cloudy skies, so I started the day by washing clothes to hang outside.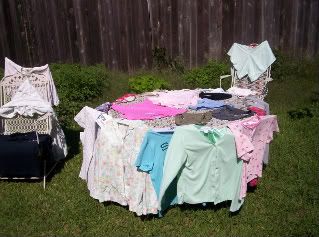 The two gigantic sweet potatoes that I mentioned on
September 3rd
have been curing, and it was time to do something with them today. I chose to freeze them because we're going to have a gazillion of others soon. That was a multi-step procedure.
There are several ways, but I chose to boil, slice, freeze. To fit in my largest pot, I had to do some cutting to the elephant man's head. I was able to boil the other one, but chose to freeze it in two separate containers, as my intent was to freeze the equivalent of one sweet potato in each container. After boiling, the skin was removed (to the compost pile) and the sweet potato sliced into what one sweet potato might resemble sliced. THEN, the slices were tossed into a large bowl of water to which lemon juice had been added (think 1/4 c lemon juice to one quart water). This was to preserve color.
I used the same lemony water for every batch. The first time I noticed slices rising to the top, I assumed they were "woody" and tossed them on the compost pile.
Towards the end of the day, MOST rose to the top, so I no longer discarded floaters.
The lemony slices were set on paper towels to drain before freezing.
Made more crockpot granola today also. I took the recipe I'd used to make oven-baked granola (before I learned about the crockpot recipes) and just used the crockpot for it. Six cups of rolled oats plus all the other stuff I added at random just because I thought they'd taste good fit into a 9" high cannister.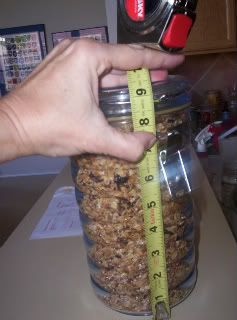 The very last batch I put into three-thick paper lunch bags and labeled it "TWO sweet potatoes ... for pie." Em desperately wants me to make sweet potato pie, but I look at our middles and think, "We don't need pie." I'll make it sometime this winter whether we get our middles down or not.
I moan a lot about how the yard's out of control, but some areas are pretty perfect:
Tossing in a picture of Em simply because I can. It's part of a program to get him to smile for pictures.