We got away pretty easy with the fence costs, considering that the storm knocked down the entire thing on the east side of the yard. I'm not sure what goes through the minds of the fence fixers, though, as far as which sections to keep and which to replace. Some of the remaining old sections look a whole lot worse than the sections removed for replacement, for instance. Here's what our neighbor had replaced: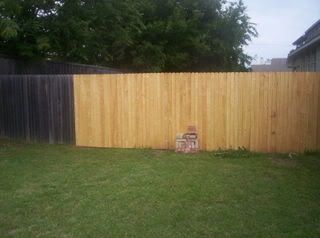 The new section of that fence extends about 6 feet further south than the old fence did, so attaching our part of the fence to his part required a different approach than the one originally used. The guy Em hired bought one post, one 2x4 and a bag of quick-set cement & put our section back up.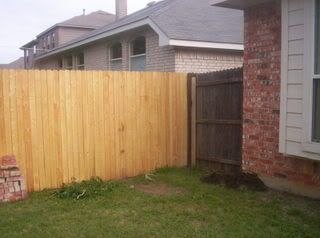 The section now slants upward towards the house. I dunno why he chose to do it that way.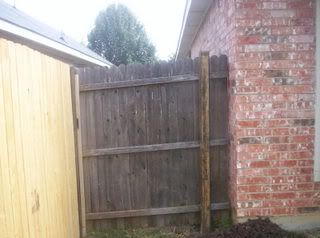 $120.00 Started weeding the onion patch of grasses, moved the rubber tree outside to begin getting acclimated before I find a place to plant it in the ground, and played around with some $0.00 birdbath ideas. I think I mentioned that Em was going to dig up the entire backyard this year in an attempt to get something growing besides crabgrass. I think we're going to just try killing the crabgrass and try planting other stuff (including grass) in its place. It's a lot less work and we might have rainy weather that'll get seeds going before the crabgrass grows back.