No. 2's in town for a few days this week,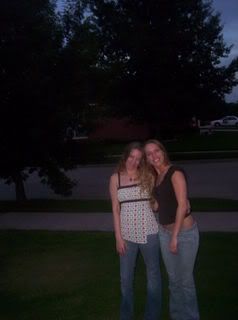 and there's this "thing" going on wherein some people are gonna make a concerted effort to make less impact on the environment June 1 to 7.
One week! So,since I'm old & all, I figured I'd better get a head start and began engaging in a series of experiments this week to see just what we might be able to do that didn't result in extra psychiatric care. One part of the experiment is to keep the AC set at 90 degrees. I doubt that we could do that here in August, but this is May, right? So, No. 2 came down from the Midwest with all that thick blood in her body and noticed that the temperatures are quite a bit higher here in North Texas. Em and I felt pretty comfortable this week without the AC. High never even got above 87! But, No. 2 (with the collaboration from No. 1 no doubt) used the heat as an excuse to spend another day at the home of friends of No. 1 who keep the AC COLD (not to mention having a backyard pool). So, to keep them cooler on their drive to this destination, Em let them borrow his car. Check out the look on his face: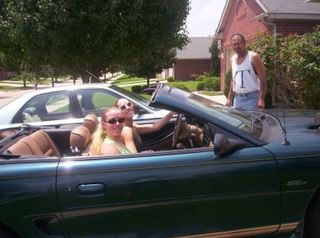 He's outside grilling some ribs for the girls (because I'm only using the microwave and the outside grill this week) who will probably NOT make it back home tonight to eat them. That would be THESE girls:
We won't mention how burning charcoal into the atmosphere is probably just as bad as using the oven because had I used the oven I might have felt the need for the AC. Six of these; half dozen of those. Yesterday, I learned how to make rice and pasta in the microwave. It came out better than the stuff I normally make on the stovetop. I have a history of making brown rice that turns out crunchy and watery, but this stuff was fluffy. Made sloppy joe mix in the microwave, as well...even doing the ground meat. So, SOME positives have already come out of this week's experiments. No. 2 just picked a bad week to visit.
We didn't really do anything together this week except get silly the last day. She and Em went to the gym once, and she and I took the trail walk once, but most of her time outside of sleeping during the night was spent in Haltom City having a little fun with the locals. Sounds like I'm moaning about that, and the emotional part of me IS moaning about that while the intellectual part of me is saying, "Dude...YOU do that to her!" So, I'm coming to grips with both the thought of my little girl not wanting to spend every waking moment in Mommy's town with mommy while I also come to grips with the realization that grownups only get so many vacation days/year in the US and I should feel damn lucky that she chose to honor me with her presence already twice this year. I love you, Sweetie!
I should probably also mention somewhere here that the furry grey thing in No. 1's arms is a cat that No. 1's had for over 10 years. She's never been inside this house, but she meows at my office window every morning as soon as she sees the light go on or (now that I'm not using the light) sees the window open. That's the signal for "Put food on stoop NOW!", and just like one of Pavlov's dogs, I do what I'm told.