Got a number of experiments going on, but the one that seems the most successful with the least effort is the composting one. Just a week or two ago I thought I needed to buy something to compost successfully but it looks to me like I've been pretty successful turning food scraps into something pretty damn close to soil already. Could be the Texas sun at work. We're a small family, so it looks like my few food scraps can just continue to be gathered and added to a little container that sits on the back patio. I suppose I COULD make holes in the container, put the lid on it, roll it around, spray paint it black, etc., but to what end? It once contained sherbet. Here's what my daily scrap pile looks like.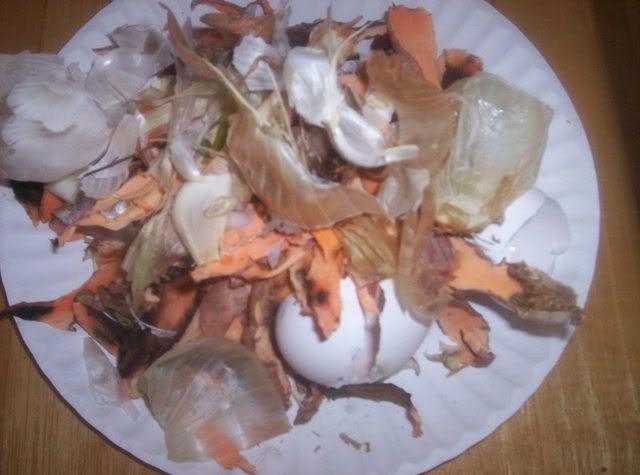 Here's the little container.
You can see how small it is compared to a 9" paper plate.
This thing has gotten my food scraps for 2 weeks now plus a little dirt, some grass clippings, a few leaves, & of course the shredded plates. Some days I don't have food scraps, but when I add to the container, I give it a stir. It smells like
sh
a farm. Flies love it. Ants love it. Other insects love it. They all work together on it, it seems. So, this week I'm gonna finish a smaller container of sherbet and create a second compost so I'll stop adding new scraps to the first one. In 2 more weeks, I'll dump the contents of the first container in the garden and give the 2nd container 2 more weeks...rinse...repeat. $0.00 composter! Didn't even need to buy worms! Grey Water is a whole lot more disgusting, IMO, as I've been cutting back on water use, as well. Ever think about how much water is used for simple things like washing our hands? Do a few
calculations
and think about where you can cut back. We have a drought here with watering restrictions most summers. So, I've been saving the water used to wash the cream cheese off the knife and used to wipe out the bowl in which I stirred the Shepherd's Pie and water the plants with it. If it's REALLY disgusting, I use it only on the outdoor plants. That helps keep the fruitfly population down indoors. Read the electric and gas meters yesterday (the one-week point from when I read them before). I have doubts about whether I read the first week correctly so will continue the experiment for another week to see the next reading. Tonight, we're going to a Move-On Call Party on Climate Change.