I remember working FOREVER for Amoco (once Standard Oil, lately British Petroleum), and my retirement date was 2012. That was SO FAR INTO THE FUTURE that when they asked me whether I wanted my retirement benefits for a little amount every month for the rest of my life (when I quit) or in a big amount every month starting in 2012, I didn't see a decision. "WHOAH" (in retrospect!)
So, now that 2009 is here, I've been reflecting on life and life in 2008. I enjoyed 2008. I love my life, and 2008 was a good year, IMO. Environmentally speaking, we were in our groove throughout 2008, doin' what we wanted to do to make our footprint a little bit smaller while not inconveniencing us too terribly much. SOME things started to bother me, though, and I intend to tackle those things in 2009 if it doesn't inconvenience me too terribly much. I'm really annoyed by how much plastic we use just to throw it away.
I'm not talking about the plastic water bottles we carry with tap water from home in the car that No. 1 got free from the police department at UTA, nor am I talking about the plastic cup that I clip to my belt when we go to the casino where they offer self-serve drinks with only styrofoam cups. I'm talking about the laundry soap/fabric softener that costs only $2.00 for 32 loads and/or the dandruff shampoo that comes in the plastic bottles (without which I have such an itchy head that I've recently started applying
sesame oil
before shampooing.) The cheap laundry soap (in the plastic bottle) got knocked off the dryer yesterday, fell to the floor, broke the plastic cap which resulted in it poured over the floor, and now stuck to the bottle. Meh. Tide is worse for the environment (maybe), but it comes in a cardboard box that's recyclable (or once was until ...), and there's nothing inherently wrong with doing the laundry with borax and baking soda. It's not like we need the cleaning power required to keep small children presentable anymore.
We might not have all the recyclable centers of 2008 in 2009 due to the recession and people not being able to make enough money to justify the expenses. This means that
the 3 Rs
need to concentrate more on the
reduce
part more. So, around here, there'll be fewer products purchased in plastic, same amount of paper used (which isn't really much), possibly MORE water used, and more natural products used.
December, 2008 offered us: a hard-drive crash on the PC (sending us to the library for limited internet sessions and books to read while we were down), my first try at homemade pizza, a stab at fixing our vinyl loveseat (which isn't accepted anywhere as pre-owned), and a fairly drastic haircut once I noticed split ends.
Pizza crust was whole wheat, of course, because I'm on a health kick lately.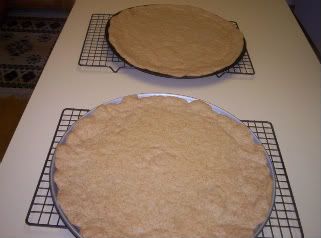 I used pizza sauce (generic Kroger), Kroger shredded pizza cheese, a tube sausage from Owens (considered HOT), fried and drained before inclusion, as well as a sliced pepperoni sausage for which I had a coupon and paid very little, AND
vegetables ... bell peppers in green, yellow, and orange, as well as sweet onions and mushrooms plus garlic powder and Italian seasoning.
It all tasted great, despite the burnt look (perhaps due to my coating even the outer crust with all the sauces and stuff).
I miss the hair.
But, (as we've noticed through the years), it'll grow back.
Em got me a Sudoku desk calendar for 2009. Based on the quickness of correct answer, I'm guessing (for now) that it starts out with a 1-star difficulty level. Hopefully, it will work its way up to something more difficult throughout the year. We discussed recently how it was during a trip to West Wendover a few years ago that I asked a young man sitting in the waiting area about the puzzle he was working and now I work many/day. We're off to West Wendover again later this month.
Any thoughts on 60 being the new 40? I intend to treat our future(s) as though we have another 40 years.