I recently posted about how to
freeze sweet potatoes
picked from the garden, but today I realized that even if you don't have a garden produce goes on sale seasonally and Thanksgiving in the US is one of those times for yams.
There's a difference between yams and sweet potatoes, and I'll let you
discern the differences
, but (to us) they both taste good.
The folks at
Coupon Mom
told me today that yams were on sale at Kroger for $.19/lb. "Holy majoly, we need some at that price!", I said and put it on the short list of things to get from Kroger when Em went to get his hair cut at a place new (to him) next to Kroger. The newspaper ad had them more like $.33/lb, but that's still a bargain if you can use them.
From eight yams (total cost $1.92):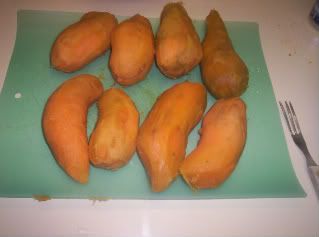 Boiled and sliced the same way I do the sweet potatoes from the garden:
Seven meals worth.
That's less than $.28/meal for us (family of only two).
AFTER I put the 7th in the freezer bag, I realized that this would be good for tonight's dinner with fresh broccoli and frozen tilapia. The bag will be washed and reused.