Tepid day here in North Texas. I think the high was close to 70 degrees.
We took the opportunity to rake the leaves in the front and redistribute them to the gardens out back. During this redistribution effort, I found out that our sweet potato beds had a bunch more sweet potatoes to process.
Em helped gather leaves.
I helped put them into the garden beds.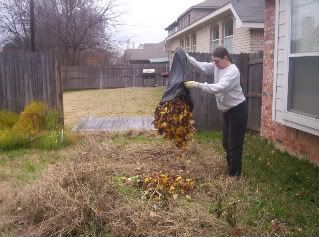 But, then, I started feeling around under the sweet potato beds and there were several more to process.
We got not three (as shown), but FIVE in the end.
Next nice day here we'll plant more stuff, but today was really good.