It snowed here this morning in North Texas. It was short-lived and the sun was out soon enough, so I went out and picked tomatoes, cilantro, green onion for salsa making. I'd already spent the morning processing that horrible-looking elephant-man- head sweet potato and the more normal-looking sidekick that have been sitting on my kitchen table curing for a while now. Last time I processed a pair of these I got enough for 12 meals. This time, I only got enough for eight meals due to lots of insect damage on one side.
The elephant-man-heads need to be cut to fit into my biggest pot (which isn't as big as some might have), so it boils without skin on at least one side. It's also a bitch to cut for boiling. Next season I'll keep a better eye on sweet potato growth. Remind me, okay?
So, I got home from Illinois late last night and ... there were no tomatoes sitting on newspaper on the kitchen table, so I asked Em what happened to them and he said, "They rotted." These were the tomatoes destined for salsa as soon as we found some cilantro (which the local stores didn't have currently). My mind went through all the "I should have refrigerated them" thoughts, and even a quick tour of the uglier thoughts. Put on a winter coat and went outside to see if we had any more. We did, and even had maybe enough cilantro.
First thing on my agenda for tomorrow. Would have processed them today, but I took a nap and didn't wake up until 10:30pm. Yeah ... that vacation wore me out. Just in case I can't get to it right away, though, I put it all in the frig.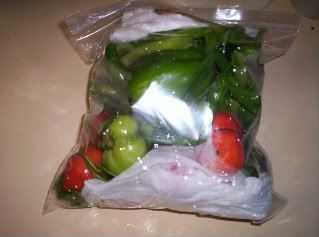 I wonder which is worse ... letting good food rot or using a plastic bag and a refrigerator.