No. 1 and Dave came for supper Sunday night with Astrid. I cooked up a pork loin I'd had in the freezer since 2007 - [Em and I defrosted, reinventoried and reorganized both the garage freezer and refrigerator freezer last Saturday.] I used
THIS RECIPE
with changes based on reviews and we really enjoyed the meal. Em and I had leftovers yesterday. Here's "Poppy" with Astrid from that evening. No. 1 had an absessed tooth and looked like she had a tennis ball in one side of her mouth, so we didn't take photos of her or Dave; details below.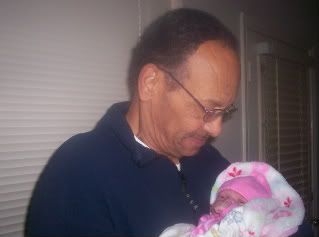 Spent a fair amount of time cooking yesterday. Made a stovetop pea-soup for starters. No. 1 had a molar that my dentist had "fixed" which absessed so badly that she had to have the tooth pulled yesterday. I can't save her tooth from the dentist I recommended (who I'm not going to use again, either), but I could make her some soup to eat while that side of her mouth heals.
We'll drop it by today or tomorrow. It's currently snowing, so I'm not sure we'll venture out today, but anticipation of snow encouraged me to cut a big bunch of kale yesterday.
I didn't cut all of it, but more than I could fit into the largest bowl I have.
Maybe it was because No. 1 and Dave ate some White Castle Cheeseburgers for lunch that Em had bought when they stopped by earlier in the day Sunday, but when
Super-bowl bites
came to my attention, I wanted to give it a try, so took out a pound of lean angus chuck to defrost in the morning. Having read that King's Hawaiian Savory Butter rolls worked really well for buns on the "sliders", we bought a package of 12 on our morning shopping trip.
We only needed 1/2 lb of chuck for 12 sliders, so I found a recipe for a spicy meatloaf that would accommodate the second half of ground beef plus the 1/2 lb sausage leftover from last week's pizza.
The meatloaf was really easy to make. Usually, I throw all kinds of veggies into it, but I had other things on my mind, so made it as stated, wherever it was. We haven't tasted it yet; that's for tonight's supper. We had some leftovers from that pork meal for supper last night.
Most interesting of the meals made, IMO, was the White Castle Cheeseburger copycats.
I used the method of one reviewer and first laid out the 1/2 lb beef chuck mixed with 1/4 pkg of Lipton onion soup mix, a handful of shredded cheese [I think I used a Mexican blend, but I don't think it makes a difference] into a 6x8" rectangle.
This rectangle was cut into 2" pieces with a pizza cutter and placed into a 9x13 glass baking dish which went into a 350 degree oven for 17 minutes.
While they were baking, I sliced open the Hawaiian rolls, took three slices of Kroger American cheese and cut them into 4 parts each. Cut myself slicing the rolls, and used the pizza cutter to cut the cheese. My aim wasn't very good in either task.
Once the patties had cooked, I took a paper towel [gasp!] and wiped out excess oil from the glass pan [not much from lean Angus chuck] and put the completed buns into the same pan, covering it with tin-foil before putting back into the oven for another 13 minutes.
Last step was to let them cool for a few minutes, wrap two into a paper towel for nuking after freezing (just like the real version) and putting into a freezer bag. 12 fit nicely into one gallon bag. We had to taste one first, so this batch only has 10. "Close enough!", we both said. Next step will be to duplicate the taste of King's Hawaiian Savory Butter Rolls.