Cousin Carolyn's gift was sentimental (and No. 1's a sentimental person).
Jake was the Best Man and he and Barbara (his wife) are wonderful people.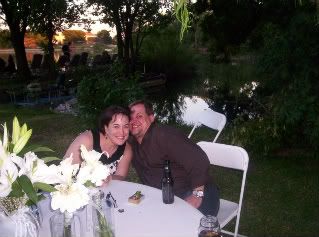 Happy (who hosted No. 1's wedding shower) and her husband, Jeremy, shown along the lake. If you look hard, you can see the reception in the background.
Chris, Jo Ann, and Nanette were also out by the lake chillin'. I called Chris "My Porter" because anytime I wanted something hauled he hauled it. I dropped off several coolers of food at this place, but I never touched any of it after that except to finish some last-minute baking. These kids laid out the entire buffet including crockpots (with minimal instruction).
Crap; I have borrowed coolers and probably can't remember who I borrowed them from.
There's Jessica fishing.
Chris and Jeremy: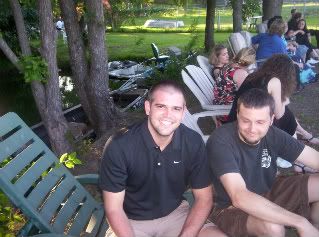 Mel and Brian (both wonderful people). Thank you SO MUCH for all you did to help.
Here's Brian again with Evelyn. Evelyn is the one who said, "I'm here for you; ANYTHING you want me to do I will do."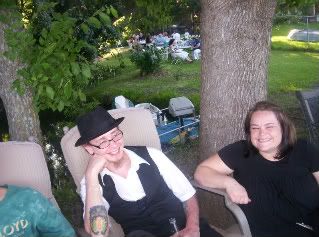 The others just DID anything I wanted them to do, but Evelyn made it clear that she was my slave for the day.