Em took a bunch of cherry tomatoes over to No. 1's on his way to work today. They represented the only "presentable" tomatoes from the garden this week. We had a bunch of unpresentable tomatoes, however, which are in the process of being turned into salsa.
Read a number of recipes for salsa-making today and got all the ingredients ready for my first experiment:
Em got ready when I sent him to the store for jalapenos and a few more bell peppers. My hot peppers aren't producing yet and big bells are selling for $.50 each.
Some recipes call for boiling ingredients, but I chose to broil/chop/refrigerate.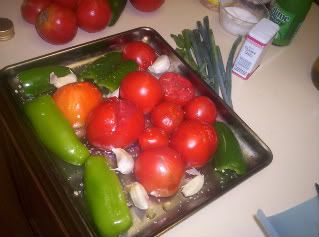 I might have broiled a tad too long, but the skin is removed (for the most) anyway, so the recipe wasn't spoiled at all.
Chopped, but left it fairly chunky as salsas go.
Mixed with chopped cilantro, onions, lime juice, liquid smoke, EVOO, cumin, red wine vinegar, salt. I didn't try and measure anything too carefully. It was more like "a few shakes of this, a few pinches of that".
Half the ingredients (batch 1 of 2) JUST fit into an empty and cleaned for repurposing Ragu 1 lb 10oz jar. Now, I simply await the taste-testing which will determine what I do with batch 2.