Surfing for information on the absolutely EASIEST method of freezing summer squash, I ran across the following entry:
"I got this advice from a friend of mine who puts up lots of veggies for the winter. I have put the yellow squash in my freezer according to her instructions, but have not actually taken any out and cooked it. She says they will keep 3 or 4 months with this procedure. Wash the squash and dry. Do not peel. Prepare brown paper lunch bags by slipping them one inside the next until you have about 4 layers, then slice the squash and place them in the inner bag. Fold the tops down a couple folds and staple the bag shut. She has been doing this for a long time with large amounts of both yellow and zucchini squash, so I trust her that this works. Harlean from Arkansas "
Never having tried to freeze ANYTHING from my garden previously, I was impressed with the simplicity of this method. MOST begin with blanching. But, who wants to blanch if blanching might not be necessary?
So, I sent a smoke signal up for Diane and we started discussing this "paper" method when I ran across a later post from the same OP.
Notice how 4 bags went to 3:
ThriftyFun
. Diane and I got to talking again, and I decided to give it a try as soon as I found my brown paper lunch bags (which happened today).
I was up to 4.5 squash today (with the .5 losing half due to squash borers), so I chopped 1.5 for the first batch (sliced) that used 4 paper bags, 1 squash for the second batch (sliced) that used 3 paper bags, 1 squash for the third batch that was left whole and used 3 paper bags.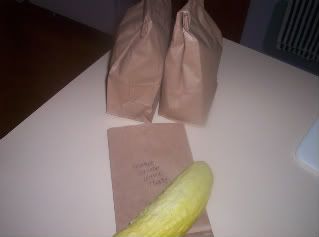 Put all three in the chest freezer in the garage and will wait a respectable time to allow the bags to fall to the bottom and offer the test of time before reporting on results.
Opinions are welcome on whether 4 brown paper lunch bags represent a bigger carbon footprint than one plastic freezer bag AND (assuming this method works) your guess on WHY.