We haven't done much grocery shopping since before the wedding. Usually, I make lists each week when the sales ads arrive, but sales haven't reflected anything we needed lately so Em's been going alone to just get milk and beer with a few random exceptions. This week
Albertson's
has a sale on some things that need to be replenished in the pantry at the same time that
manufacturer coupons
are available for them. That's the best money-saving combination, so off we go tomorrow to renew our stocks of a few items we use regularly.
We finally this week used up a can of sloppy joe mix that's been sitting in the pantry for several years [before I knew how to make it from scratch] when I made hamburger buns with leftover flour from the pizzas. Now, I have buns leftover, too, so decided to make tuna salad sandwiches for supper trying a
new recipe
. I have everything I need for this one without a trip to the store.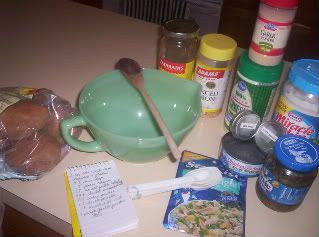 Is there somewhere in the world where tuna comes in 7oz cans? Ours were once 6oz until manufacturers decided to save money by dropping the can size down to 5oz. Parmesan and curry powder in tuna salad with NO eggs? Who Knew?
I hope to get many more healthy recipes from
Ruchi's challenge
.
Speaking of challenges,
Crunchy Chicken
has a new
We're traveling some in August, so it's not likely I'll engage in her challenge, but we buy so little anyway that little would change if I did.